| | | |
| --- | --- | --- |
| Vera CASLAVSKÁ | | Czechoslovakie (TCH) |
Date of birth

3 May 1942

Hometown

Praha

Place of birth

Profession

Member of NOC

Height

cm

Children

Weight

kg

Start gymnastics

Gender

Female

Club

Nickname

Head coach

Spouse name

Favourite apparatus
| | | | | | |
| --- | --- | --- | --- | --- | --- |
| World class in | 1958 | First competition | 1958 | Last competition | 1968 |
Caslavska was born on May 3, 1942. She began her sports career as a figure skater but switched to gymnastics. Caslavska must be considered one of the best gymnasts of all time, due to her long and successful career. After retiring from the sport in 1968, she wanted to work as a coach but for many years was not allowed to because she was a supporter of the 'Prague Spring.' Eventually she was allowed to coach, and one of her pupils was Iveta Polokova. Caslavska has been a member of the IOC since 1995. She was inducted into the Intl. Women's Sports Hall of Fame in 1991 and was awarded the Czech Republic's Medal of Merit in 1995.
A Gymnastics legend!

This was the gymnast who succeeded Larissa Latynina in the international hierarchy. She also held two Olympic titles with 22 gold medals. She was the last gymnast of the "romantic era", feminine grace personified. In Mexico 1968, in winning her second all-around title, Vera set still unbeaten record for a femal gymnast four Gold medals from the one and the same Oylmpic Games. She brought feminity in Gymnastics so highly appreciated for decades and so much missed nowadays. She is also known as a coach, international judge and a former member of the UEG Technical Committee.
The role she played in Tchecoslovakian politics is significant, as well as is her role in the sport. Vera was proclaimed as best sportswoman of the year 1968. The same year, she signed the Manifest 2000 Words and was persecuted for her civil attitude.
She never compromised on her opinions and never gave up, always taking her own responsability. She has learned this through gymnastics and has remained faithfull to this credit.
In 1990, President Vaclav Havel named Vera as adviser for sports, education, health, social tasks and various matters in foreign affairs.

Caslavska the figure skater in 1952, and Caslavska the Olympic champion in 1964.
Medal Total
Olympics: 7 Gold, 4 Silver
Worlds: 4 Gold, 5 Silver, 1 Bronze
Europeans: 11 Gold, 1 Silver, 2 Bronze
Year

Competition

Team

AA

1958

2

8

-

-

-

-

1959

-

8

2

-

1

-

1960

2

8

-

-

6

-

1961

-

3

6

5

6

3

1962

2

2

1

5

5

3

1964

2

1

1

5

1

6

1965

-

1

1

1

1

1

1966

16. World Championships
CSSR Championships
HUN-CSSR-GBR Tri-Meet
FRG-CSSR Dual Meet

1
-
-
1

1
1
1
1

1
-
1
-

4
-
1
-

2
-
1
-

2
-
1
-

1967

-

1

1

1

1

1

1968

2

1

1

1

2

1
Olympic Games 1968, Mexico
Video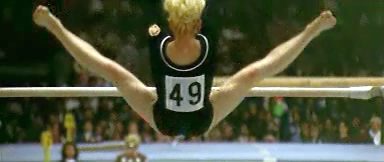 Gymnastics > Biography > Caslavská