| | | |
| --- | --- | --- |
| Elena GOMEZ | | Spain (ESP) |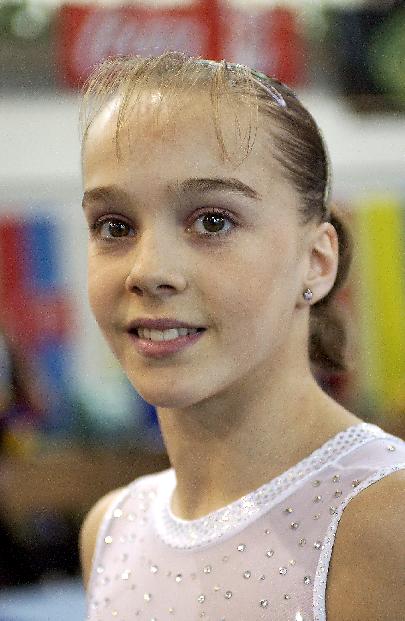 Date of birth

14 November 1985

Hometown

Manacor, Mallorca

Place of birth

Maroca

Profession

Student

Height

145

cm

Children

none

Weight

kg

Start gymnastics

1991

Gender

Female

Club

Club Gimnástic Cor Olímpic

Nickname

Elena

Head coach

Jesus Carballo Garcia

Spouse name

none

Favourite apparatus

Floor, beam
| | | | | | |
| --- | --- | --- | --- | --- | --- |
| World class in | 2001 | First competition | 1999 | Last competition | |
When Elena Gomez won the gold medal on floor exercise at last fall's World Championships in Debrecen, Hungary, she made Spanish history. Until 2002, the Spanish women's best result in Worlds competition was fourth place. Gomez looks to make history again at the 2003 Worlds and 2004 Olympics, and keep her country in the medals.
"Elena is very serious, disciplined, hard-working and responsible," coach Jesus Carballo, Sr., told IG.
Gomez began training at age nine in her native Manacor, a town in the Balearic Islands known as "The City of Pearls." The 17-year-old star has five siblings: Marta, 22; Carlos, 19; Claudia, 12; Natalia, 11; and Daniel, 10. (Gomez's two younger sisters Claudia and Natalia are also gymnasts).
"I feel she is very special because she is bright, gracious, a little timid, and sweet," describes her mother, Antonia. "But most of all Elena has character, which you need for the sport she has chosen."
Gomez says her favorite events are balance beam and floor exercise. Outside of the gym, she enjoys reading and listening to music. Her favorite recording artists are the Beatles and Elvis Presley.
In spite of her newfound fame, Gomez says she realizes what she will need to repeat her 2002 results. "On every event, I have to keep working as I have done up to now."
IG Online Spotlight Gymnast, February 2003
Year

Competition

Team

AA

1999

Spanish Jr.Champs

-

3

-

-

-

-

2000

23. Jr. European Champs
Spain vs. Italy
Spain vs. France (Jr.)

6
2
2

6
5
1

-
-
-

-
-
-

-
-
-

-
-
-

2001

35. World Championships
Spain vs. Netherlands
Spain vs. France
Mediterranean Games, Tunis

4
1
1
1

17
2
2
3

-
-
-
-

-
-
-
-

6
-
-
-

-
-
-
1

2002

24. European Championships
36. World Championships
Spain vs. Greece vs. Mexico
Spanish Champs

-
-
1
-

7
-
1
1

6
-
-
-

-
-
-
-

8
9
-
-

4
1
-
-

2003

37. World Championships
Nationals Championships
Spanish Cup
Cottbus Tournament
Groningen
World Cup, Paris

5
-
-
-
5
-

5
1
1
-
1
-

-
1
1
-
-
-

-
5
3
3
-
11

5
1
1
3
5
7

3
1
1
2
1
1

2004

4
5
-

5
8
7

-
-
8

7
19
6

-
54
7

2
11
7
Official Webpage (copied)
Gymnastics > Biography > Gomez > Pictures