Vanda Hadarean (ROM)
Vanda Facts
born in Cluj on May 3, 1976
started gymnastics when she was 6
favorite gymnasts are Nadia Comaneci, Ecaterina Szabo and Aurelia Dobre
favorite apparatus was floor
in '89 she moved from the jr. team to Deva and the national team
coached in Peterbourough, Ontario
Accepted a position at Moceanu's Gymnastics in Houston, Texas but the gym had closed
The gym closing caused Vanda to return back to Romania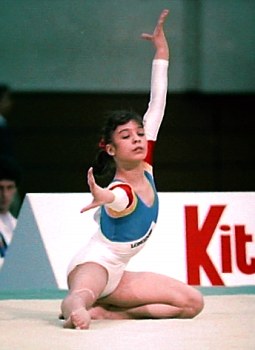 1990 Chunichi: 14th AA
1990 Recontre Beaucaire
1990 Canadian Cup: 7th AA, 2nd UB
1991 Junior European Championships: 1st AA, 1st UB, 6th BB, 4th FX (tie)
1991 USA vs. Romania: 1st T
1991 World Championships: 3rd T
1991 China Cup: 5th AA
1991 Swiss Cup (mixed pairs): 7th AA (with SUI's Koster)
1991 Arthur Gander Memorial: 3rd AA
1992 Europeans: 3rd AA, 6th UB, 4th Beam, 7th FX
1992 Olympics: 2nd T
1992 Balkan Championships: 1st T, 3rd AA (tie)
1992 Medico Cup: 3rd AA
1993 American Cup: 6th AA
1993 International Mixed Pairs: 10th AA
1993 Swiss Cup: 14th AA
1993 Arthur Gander Memorial: 7th AA

The majority of these results were compiled from information found within the 1991 USA vs. Romania program guide. Additional results obtained from various back issues of IG magazine.
Vanda Hadarean began gymnastics in her native Romania at age 5, after a local coach spotted Vanda's talent and potential while she was playing in the park. At age 13, she was selected to the Junior National team and moved to Onesti to train. One year later, she joined the Senior National team in Deva.
Vanda was a consistent member of the Romanian team, assisting the team in their strong international results. Vanda was, however, often overshadowed by many of the other strong Romanians of her time such as Lavinia Milosovici, Cristina Bontas, and Gina Gogean. As a result, Vanda did not have as many opportunities to compete in the AA due to the 3-per-country rule.
Vanda retired from competitive gymnastics in 1994. She finished high school in Deva, then moved on to a sports university. Shortly after enrolling in university, Vanda received an offer she could not refuse: a coaching position in Canada. Vanda quit school and moved to Canada. During her time in Canada, Vanda worked at Mountain Star Gymnastics in Hamilton, Ontario and a second gym in Peterborough, Ontario. Although her time in Canada was unfortunately not her happiest, things were much improved when former teammate Cristina Bontas arrived in Canada to coach alongside Vanda.
After more than two years coaching in Canada, Vanda moved to the USA to coach in Houston, Texas at Moceanu Gymnastics Incorporated (MGI). When MGI closed, Vanda moved to South Carolina to coach at Golden Strip Gymnastics (now renamed Champions Gymnastics). This position was short-lived however, and Vanda returned to Romania.
Back home, Vanda began working for a private aerobics club, EOS Aerobic Centre, in Cluj-Napoca. The gym is owned by Mariana Bagiu, a retired basketball player, and her husband, the owner of Cluj University Sports Club. She also posed for Romanian Playboy, appearing in the August 2000 issue. "Everything was perfect and I'm glad I had this experience," she said about the shoot, which earned her $5,000.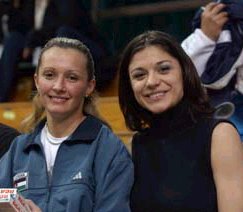 Vanda returned to Canada in early November 2000, and began coaching at Mountain Star Gymnastics in Hamilton again. On July 16 2001 she is due to begin a new coaching position at Tumblers Gymnastics Centre in Ottawa, Canada's capital. She will serve as the club's first provincial-level coach, focusing on choreography and strengthening the club's female elite programme. "I like to be in the gym with the girls, trying to give them a feel for it and having them like it," she told the Ottawa Citizen.

Camelia Mandricel and Vanda Hadarean pose at the 2002 Gymnix International. Photo used with the expressed permission of Grace Chiu.

© 1999 - 2003 . This page was created on April 8th, 1999 and last updated on March 20, 2002.