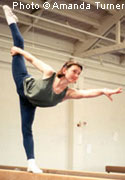 In '92, Kalinina was not named to the Unified (former USSR) Olympic squad. She cites that politics would not allow four of the seven gymnasts to be culled from one republic (three Ukrainians were already on the roster). Kalinina attended college in Kiev, and competed at the World University Games in '93 (winning two gold medals) and '95.
Upon graduation in '96, Kalinina moved to Moscow where she joined the circus. There, she met fellow performer Mikhail Tsitsilin. The two married and relocated to Tsitsilin's hometown of Voronezh, Russia, where the couple began coaching gymnastics.
In early 2000, Kalinina and Tsitsilin moved to the U.S. They currently coach at the Peninsula Gymnastics club in San Mateo, Calif. "I want to teach my gymnasts how to do all the elements properly and beautifully," Kalinina says (shown above at Peninsula).