| | | |
| --- | --- | --- |
| Svetlana KHORKINA | | Russia (RUS) |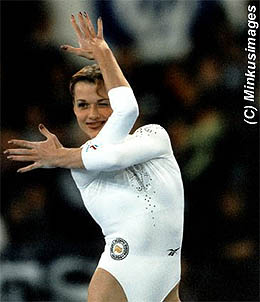 Date of birth

19 January 1979

Hometown

Place of birth

Belgorod

Profession

Height

cm

Children

Weight

kg

Start gymnastics

1983

Gender

Female

Club

Profsojus Belgorod

Nickname

Head coach

Boris Pilkin,
Alexander Timonkin

Spouse name

Favourite apparatus

Uneven Bars
| | | | | | |
| --- | --- | --- | --- | --- | --- |
| World class in | 1995 | First competition | | Last competition | |
Year

Competition

Team

AA

1992

2

-

-

-

-

-

1993

Goodwill Games
8. Jr. European Champs

1
-

-
7

-
8

1
4

-
-

2
4

1994

29. World Championships
30. World Champs (Team)
20. European Championships


-
3
2


9
-
2


2
-
5


2
-
1


-
-
5


8
-
8


1995

31. World Championships
European Cup

4
-

2
1

5
3

1
2

-
-

-
3

1996

26. Olympic Games
21. European Championships
32. World Championships

2
-
-

15
6
-

-
4
5

1
1
1

6
-
-

-
-
-

1997

33. World Championships
Goodwill Games, New York
World Cup Final, Sabae
World Cup, Paris
World Cup, Vancouver
World Cup, Zürich
World Cup, Stuttgart


2
-
-
-
-
-
-


1
7
-
-
-
-
-


8
-
5
7
4
2
-


1
1
2
2
9
2
1


2
-
4
8
7
4
-


2
7
4
7
3
1
1


1998

22. European Championships
GP Glasgow
GP Zürich
GP Stuttgart
World Cup


2
-
-
-
-


1
-
-
-
-


-
-
3
-
5

1
1
3
1
2

-
2
3
6
4

1
3
2
1
3


1999

34. World Championships
GP Glasgow
GP Zürich
GP Stuttgart
World Cup, Pusan
Tournement of Masters, Cottbus
Universiade

2
-
-
-
-
-



12
-
-
-
-
-
1


-
-
-
-
-
4



1
1
2
1
2
1



-
6
5
2
6
1



3
8
8
1
1
2



2000

27. Olympic Games
23. European Championships
Tournement of Masters, Cottbus
"Le Duel", Montreux
World Stars, Moscow

2
1
-
-
-

10
1
-
-
6

-
-
-
-
-

1
1
1
1
7

-
1
1
-
1

2
-
15
2
-

2001

35. World Championships
Goodwill Games

2


1


1


1
1

-


3


2002

1
-

1
-

-
-

1
7

2
4

5
-

2003

37. World Championships
2. Intl. Tournament, Thessaloniki
21. DBT Pokal, Stuttgart

6
-
-

1
-
-

-
-
3

-
1
3

-
-
3

-
-
2

2003

1

2004

3
3

4
2

-
20

1
8

3
27

7
15
On the 2nd Final Day at Swiss Cup 98 we could speak Svetlana for a short moment.
Favourite event?
Assymetric bars, Olympic Games 2000
When did you started with gymnastics?
When I was 4 year old.
Favourite gymnast when you started gymnastics?
Svetlana Boguinskaya.
Gymnasts you admire now (Gymnastics style or because she is a good friend)?
Nemov !!! (It was Svetlana who made the exclamation marks, not the webmasters)
Which skill in gymnastics you like most to do?
Assymetric bars (It seems that she confused skill and event, but we all knows what she means).
Which skill you hate but you need it (because itís a basic skill or has a high start value)?
Vault.
Which was the most impressing competition to you?
World Champion Chips 1997 at Lausanne.
If you couldn't do gymnastics, which sport would you do?
Tennis.
Would you give back compulsory to elite gymnasts if you could decide that?
No.
In Ice Skating are A and B scores. Do you think this would works in gymnastics also?
Yes.
Do you have a hobby outside of gymnastics?
Reading books, music and photos.
At least, you want to say something to the gymadmirer who are reading this.
The best wishes only.

Gymnastics > Biography > Khorkina > Biography > Pictures