In 1967, Kuchinskaya won the pre-Olympic tournament in Mexico City.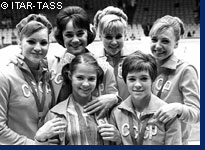 At the 1968 Olympics in Mexico City, Kuchinskaya's popularity was unmatched. She was quickly dubbed "The Bride of Mexico" by fans who had enjoyed her performances at the pre-Olympic tournament in their city the year before. Kuchinskaya was treated to serenades by mariachi singers who sang a folk tune they called "Natalie" below her window in the Olympic village.
During the Olympic competition, Kuchinskaya won the gold medal on balance beam and with her victorious Soviet team. (See team photo; Kuchinskaya is at the far right.) She also won the bronze medal on floor exercise and in the all-around. (A fall from the uneven bars during the compulsories round, then a 1.0 deduction, cost her a higher all-around finish.)
Kuchinskaya did not compete in a major international competition following the 1968 Olympics. She suffered health problems but eventually began working as a coach. Kuchinskaya spent time in Ukraine and Japan, and in the late 1990s, she moved to the U.S.