Evgenia KUZNETSOVA

Russia (RUS)

(2001- ) Bulgaria (BUL)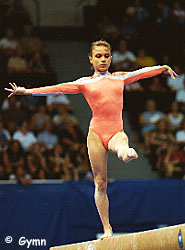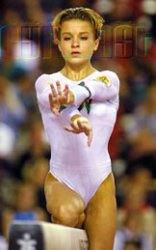 Date of birth

18 December 1980

Residence

Sofia

Place of birth

Leningrad (St.Petersburg)

Hometown

Pushkin (Tsarskoye Selo), Russia

Height

cm

Children

Weight

kg

Start gymnastics

Gender

Female

Former Coaches

Alexander & VeraKiriaschov

Nickname

Zhena

Head coach

Gheorge Videnov

Spouse name

Favourite apparatus
| | | | | | |
| --- | --- | --- | --- | --- | --- |
| World class in | 1995 (Russia) | First competition | 1994 | Last competition | |
Family facts:
an older sister who did gymnastics also, her parents still live in Puschkin a suburb of St'Petersburg. Her father is an engineer; and her mother an accountant.
At the beginning of the 2001, Eugenia moved to Bulgaria capital Sofia and is now representing her new home country at international events.
---
After several medal-winning years as a vital member of the Russian team, Yevgenia Kuznetsova is now seeking success for Bulgaria.
The 21-year-old Kuznetsova helped Russia win the team silver at the 1996 Olympics, but did not make the 2000 team. In between, she won the 1998 European Championships title on balance beam, and shared the team silver at the 1997 and 1999 Worlds.
Looking to extend her career, Kuznetsova relocated to Bulgaria in March 2001. Last summer, she dominated the Bulgarian Cup competition; in the fall, she placed 15th all-around and was the alternate for the balance beam final at the World Championships. Kuznetsova is now determined to compete at the 2004 Olympics for her adopted country.

Read a profile on Kuznetsova in the February 2002 issue of International Gymnast Magazine.
Medal Total
World Championships: 2 Silver
European Championships: 2 Gold, 1 Silver
Year

Competition

Team

AA

1994

Catania Cup
World Stars

-
-

2
5

-
4

-
4

-
3

-
1

1995

European Youth Olympic Days
Intern. Champs of Romania
Japan Jr Invitational, Yokohama
Jr. European Team Champs
Messe Cup
RUS Championships
RUS Cup
31. World Championships

-
-
-
1
-
-
-
4

1
11
1
-
5
10
5
-

1
-
1
-
-
-
-
-

1
5
3
-
-
-
-
-

6
-
6
-
-
-
-
-

6
4
4
-
-
-
-
-

1996

Catania Cup
ITA-BLR-ROM-RUS Meet
RUS Championships
26. Olympic Games

-
-
-
2

4
7
4
-

-
-
-
-

-
-
-
-

-
-
-
-

-
-
-
-

1997

33. World Championships
Gander Memorial
RUS Championships
RUS Cup
Trophee Massilia

2
-
-
-
-

16
2
10
3
-

-
-
-
-
-

8
-
-
-
3

-
-
-
-
4

-
-
-
-
3

1998

Chunichi Cup
Copa Gimnastica
22. European Championships
French International
Goodwill Games
Pusan International
RUS Championships
RUS Cup

-
-
2
-
-
-
-
-

2
11
-
-
-
6
4
6

5
-
-
-
-
-
-
-

3
5
7
-
-
-
-
3

2
-
1
2
5
-
-
2

6
-
-
-
-
-
-
3

1999

French International
RUS Championships
RUS Cup
Siska International
Trophee Massilia
34. World Championships

-
-
-
-
-
2

6
9
6
1
4
-

-
-
-
-
-
-

-
-
-
-
-
-

2
-
-
-
-
-

-
-
-
-
-
-

2000

HUN International
RUS Championships
RUS Cup
World Stars
23. European Champs *

-
-
-
-
1

-
4
7
4
-

-
-
5
3
-

4
-
3
-
-

5
-
8
-
-

-
-
4
4
-

2001

35. World Championships
BulgarianCup

14
-

15
1

-
3

-
1

-
1

-
1

2002

7
-

8
-

-
-

-
-

-
5

-
-

2004

-

93

-

81

46

-
* on roster but did not compete
Gymnastics > Biography > Kuznetsova