| | | |
| --- | --- | --- |
| Larissa Shemjonova LATININA | | Soviet Union (URS) |
Date of birth

27 December 1934

Hometown

Kiev

Place of birth

Kherson

Profession

Height

cm

Children

Weight

kg

Start gymnastics

Gender

Female

Club

Burevestnik

Nickname

Head coach

Alexander Mishakov

Spouse name

Favourite apparatus
| | | | | | |
| --- | --- | --- | --- | --- | --- |
| World class in | 1958 | First competition | | Last competition | |
Latynina is the only gymnast of either sex to have won medals on every event on the program in 2 Olympics.
She was inducted into the Intl. Women's Sports Hall of Fame in 1985.
During her international career that spanned three Olympiads and 12 years, Larisa Latynina won a record 18 medals in Olympic competition.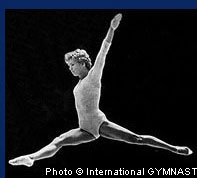 This total makes her the most decorated Olympian to date in any sport.
Born December 27, 1934 in Kherson, Ukraine, Latynina began her career on the Soviet national team under her maiden name, Dirii. At the '54 worlds, she placed 14th all-around.
After her marriage, she competed in the '56 Olympics, where she won golds in the all-around, on vault and floor (tie) and with her team, a silver on bars, and a bronze in the team drill event.
In '57, Latynina swept every event at the European championships; a year later, at the world championships, she nearly duplicated this feat with golds on every event except vault (silver). Remarkably, Latynina competed at these world championships while pregnant with her daughter Tanya, who was born 10 days before Latynina's 24th birthday.
Medal Total
Olympics: 9 Gold, 5 Silver, 3 Bronze
World Championships: 9 Gold, 4 Silver, 1 Bronze
European Championships: 7 Gold, 6 Silver, 1 Bronze
Year

Competition

Team

AA

1954

1

14

-

-

-

5

1956

1

1

1

2

4

1

1957

-

1

1

1

1

1

1958

1

1

1

1

1

2

1960

1

1

3

2

2

1

1961

3. European Championships
USA-USSR Dual Meet

-
1

1
1

4
-

2
-

2
-

1
-

1962

1

1

2

3

2

1

1963

1

1964

18. Olympic Games
SWE-USSR Dual Meet
USSR Championships

1
1
-

2
4
2

2
-
-

3
-
-

3
-
-

1
-
-

1965

-

2

3

2

2

2

1966

USSR Cup
USSR World Trials
16. World Championships

-
-
2

5
6
11

-
-
-

-
-
-

-
-
-

-
-
-
Video:
Gymnastics > Biography > Latinina