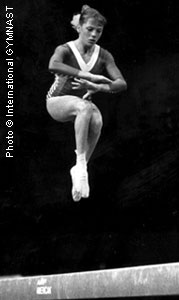 Winner of the U.S. women's first individual event gold medal in Olympic history, Julianne McNamara climaxed her career at the 1984 Games. There, she tied China's Ma Yanhong for first place on uneven bars (both gymnasts scored 10.0 in the final), won silver medals on floor and with her team, and placed fourth all-around.
Born to Australian parents on Oct. 11, 1965, McNamara won the '80 U.S. all-around title and earned a spot on the Olympic team that boycotted the Moscow Games. A year later, at the world championships that were coincidentally also held in Moscow, McNamara notched the top U.S. women's world all-around finish (seventh place) to that point in history. She also earned a bronze medal on bars, and finished fifth on beam and seventh on floor. (McNamara entered the beam final in first place, but went overtime in the final and dropped out of the medals.)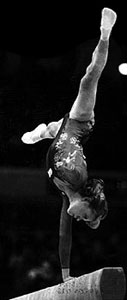 At the '82 World Cup, McNamara fell off the bars to place eighth all-around. In finals, though, she earned a bronze on vault and seventh place on beam. At the '83 world championships, McNamara had a mistake on floor to finish 16th all-around, but earned sixth place on vault and seventh on bars.
In '82, the Netherlands Flower Council, headed by namesake Dutch Queen Juliana, christened the "Julianne McNamara" rose. At the time, the only other American woman to be so honored was then-U.S. First Lady Nancy Reagan.
Upon her retirement from gymnastics, McNamara embarked on an acting career, appearing in television shows such as "Charles in Charge" and "Knight Rider." In 1989, she married baseball player Todd Zeile, whom she met while attending UCLA. Zeile currently plays third base for the New York Mets.