| | | |
| --- | --- | --- |
| Andrea Madalina RADUCAN | | Romania (ROM) |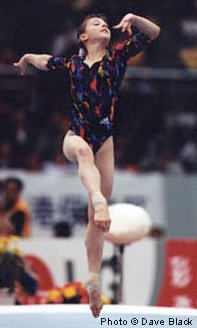 Date of birth

30 September 1983

Hometown

Barlad

Place of birth

Profession

Height

cm

Children

Weight

kg

Start gymnastics

1989

Gender

Female

Club

Nickname

Head coach

Spouse name

Favourite apparatus

Floor
| | | | | | |
| --- | --- | --- | --- | --- | --- |
| World class in | 1999 | First competition | 1993 | Last competition | 2002 |
Romania's Andreea Raducan has become perhaps more beloved since being stripped of the 2000 Olympic all-around gold medal than had she retained it.
The 17-year-old from Barlad lost her title in Sydney when tests revealed that the Nurofen cold tablets she had taken prior to the all-around contained a banned substance. The International Olympic Committee stripped Raducan of her all-around gold, but allowed her to retain the team gold and vault silver she earned. (Tests following the team and event finals portions came up negative.)
Upon her return to Romania following the Games, Raducan was embraced by her countrymen. Plans for a Raducan doll, as well as a book and a film about her life, were announced.
Raducan, who enjoys dogs and listening to disco music, has no plans to retire in spite of the scandal. In December, she took two gold medals at the World Cup Finals in Glasgow.
January 2001 issues of International Gymnast Magazine.

Year

Competition

Team

AA

1993

Romanian Junior Nationals

-

1

1997

Romanian Nationals

-

2

1998

Romanian Nationals
22. Jr.European Champs
Chunichi Cup, Nagoya

-
2
-

3
4
7

-
11
4

-
21
7

-
2
1

-
3
3

1999

Romanian Nationals
Romania vs Holland
34.World Championships
Glasgow Grand Prix
Arthur Gander Memorial, Morges
Trophee Masilia, Marseille
Swiss Cup, Zurich

-
1
1
-
-
1
-

2
4
5
-
3
2
-

3
-
-
6
-
-
2

-
-
-
6
-
-
3

-
-
2
1
-
-
3

-
-
1
2
-
1
1

2000

International Romanian Champs
La Duel Grand Prix, Montreux
Cottbus Cup
ESP-ROM-GBR-UKR, Madrid
Romanian Nationals
Chunichi Cup, Nagoya
Trophee Masilia, Marseille
World Cup Final, Glasgow
23. European Championships
27. Olympic Games, Sydney

-
-
-
1
-
-
1
-
3
1

-
-
-
1
1
2
2
-
6
1*

-
-
7
2
1
-
1
5
-
2

-
-
-
3
-
-
6
3
-
-

2
1
2
2
1
2
4
1
5
-

-
1
8
1
2
1
2
1
2
7

2001

International Romanian Champs
England vs Romania, Liverpool
Holland vs Romania, Eindhoven
Trophee Massilia, Marseille
Chunichi Cup, Nagoya
35. World Championships

-
1
1
1
-
1

1
2
1
1
4
3

1
3
-
1
1
3

-
-
-
-
-
-

1
1
-
1
2
1

1
1
-
1
-
1

2002

Internl. mixed competition, Brno
Li Ning Cup, Beijing
Romanian Nationals
Grand Prix, Paris
Grand Prix, Glasgow
Trophee Massilia, Marseille
World Cup Final, Stuttgart
36. World Championships

-
-
-
-
-
1
-
-

1
-
13
-
-
-
-
-

-
4
-
-
-
-
-
-

-
-
-
-
-
-
-
-

-
6
7
1
1
1
-
10

-
4
3
3
2
1
7
-
*: Dopping miatt egyéni aranyától megfosztották. She was stripped of her AllAround Gold due to this Pseudo Ephedrin she got from the teamdoctor. Despite this fact, she is the Olympic Champ for her many fans around the world


Gymnastics > Biography > Raducan