Elena ZAMOLODCHIKOVA

(Елена Михайловна Замолодчикова)

Russia (RUS)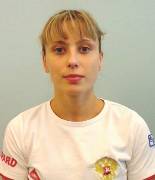 Date of birth

19 September 1982

Hometown

Moscow

Place of birth

Moscow

Profession

Student

Height

152

cm

Children

Weight

42

kg

Start gymnastics

1989

Gender

Female

Club

Olympic Reserve Centre

Nickname

Zhushya

Head coach

Nadezha Maslennikova

Spouse name

Favourite apparatus

Floor, Beam
| | | | | | |
| --- | --- | --- | --- | --- | --- |
| World class in | 1999 | First competition | 1995 | Last competition | |
General Interest
She was the only gymnast in Sydney 2000 to win two Olympic titles - on Vault and Floor. The year 2000 was a mixture of sadness and joy for her. On the eve of the European Championships in Paris (May), she suffered the loss of her father. She has every prestigious title on Vault in her collection and helped her team win the Team bronze medal at the Olympic Games in Athens. 2004 Glasgow Grand Prix and World Cup- Gold on Vault, Ghent World Cup - 6th Vault

She added another Olympic medal in 2004 with the Team bronze !

She was born and lives in Moscow. Her mother is a stenography teacher and her father was a military man, who has been involved in the Chernobil cleanup after the 1986 nuclear disaster. Sadly, he died in the eve of the 2000 European Championships in Paris (May). A few days later, regardless of the awful trauma, Elena won silver medal in the all-around and on Vault, and the bronze medal on Beam.

Elena's International debut as a senior was at the 1998 European Championships, where she helped Russia win the team silver. A year later, she captured the vault title at the 1999 World Championships and also silver with the Team and an All Around bronze medal.

Elena's first and only coach so far is Nadejda Maslennikova, who describes her prodigy as "very intelligent, reliable, tough as a character and with a lovely sense of humour."
Elena loves animals and has a pet, Yorkshire Terrier named John, who was a gift from Maslennikova after she won a medal on vault at the 1997 European Youth Olympic Days.

Zamolodchikova, on her side, deeply loves and respects her coach: "I trust her with everything", she says, "and I devote the Olympic victories to her (Nadejda Maslennikova). So much work she has put into me, and so much she has gown through for me. She deserved this victory even more than me".

Ambitions: To become a coach and hopes to enrol at the prestigious St Petersburg Institute of Sports.
Hobbies: Reading, roll skating, talking with her friends, listening to music and collecting porcelain miniatures
Best friend in Gymnastics: Ekaterina Lobajniuk.
Most admired gymnasts: Lilia Podkopayeva, Svetlana Khorkina, Adrienne Varga, Ioannis Melissanidis, Alexei Nemov and Alexei Bondarenko.

Gymnastics > Biography > Zamolodchikova > Pictures