| | | |
| --- | --- | --- |
| Elena Viktorovna DAVIDOVA | | Soviet Union (URS) |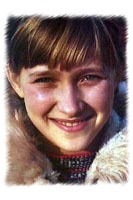 Date of birth

7 August 1961.

Hometown

Oshawa (CAN)

Place of birth

Profession

Coach

Height

cm

Children

Weight

kg

Start gymnastics

Gender

Female

Club

Nickname

Head coach

Spouse name

1980

Favourite apparatus
| | | | | | |
| --- | --- | --- | --- | --- | --- |
| World class in | 1980 | First competition | 1973 | Last competition | 1981 |
Elena was born on August 7, 1961, in Voronezh. She was coached by Gennady Korshunov, first at Spartak Voronezh and later at Spartak Leningrad. The USSR team alternate at the 1978 World Championships, Davydova found the right combination of originality, complexity and consistency, and made her country's Olympic team in 1980. She won team gold and then took the AA gold after a tough battle with Nadia Comaneci and Maxi Gnauck. Elena was the first female to perform a Tkachev on UB and was the first female to perform an Arabian 1 3/4 on FX. In addition, she vaulted a full on, full off (first performed by Olga Korbut at the 1974 World Championships). Davydova's last major competition was the 1981 World Championships, where she finished 3rd AA. She married former boxer Pavel Filatov and immigrated to Canada in 1991 with her family. Currently, she coaches at Gemini Gymnastics in Oshawa, Canada.
Elena began gymnastics aged six way back in 1968! She started out her hometown of Voronesh in Russia and later moved to St Petersburg.
1980 was her best year. She came second at the Moscow Tournament, won the Soviet Cup and placed 3rd at the National Championships, thus ensuring a place in the team squad.
At the 1980 Olympics, Elena scored a perfect 10 on floor, with some tumbling and delightful dance movements during the team event. In the overall event, she scored a 9.95 for a fantastic asymetric bars routine that included a Tkatchev, the first ever performed by a female gymnast.
---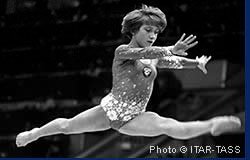 Winner of the all-around gold medal at the 1980 Olympics, Russia's Yelena Davydova is perhaps worthy of more recognition than she achieved at those Moscow Games, which were largely under-reported due to a boycott by several Western nations. Davydova's narrow victory there over defending Olympic champion Nadia Comaneci was the apex of a career that almost included an Olympic berth four years prior, and almost a world all-around title a year later.
Born August 7, 1961 in Voronezh, Davydova nearly made the Soviet Olympic team in 1976. She tied for sixth at the USSR Cup that year, behind five gymnasts who were then placed on the squad. (Another older teammate, Svetlana Grozdova, placed ninth at the Cup but was given the sixth spot.) Internationally in '76, Davydova placed third at the American Cup in the spring and tied for third at Japan's Chunichi Cup in the fall.
At age 17, Davydova and her family relocated to St. Petersburg, where she enrolled in the Lesgafta Institute to study physical education. Davydova's coach, Gennady Korshunov, also moved to the former Russian capital and continued to train her. Davydova did not compete in the '78 world championships, but shortly afterwards, she won the Chunichi Cup.
Davydova was not on the Soviet team that lost the '79 world championships to Romania, but emerged as her team's frontrunner in 1980 by winning the USSR Cup.
© Copyright International GYMNAST Magazine
---
Medal Total
Olympics: 2 Gold, 1 Silver

Worlds: 1 Gold, 1 Silver, 1 Bronze

Year

Competition

Team

AA

1973

RSFSR-BUL Dual Meet

1

1

-

-

-

-

1976

American Cup
Antibes International
Chunichi Cup
Riga International
Tokyo Cup
USSR-CSSR Dual Meet
USSR Championships
USSR Cup

-
-
-
-
-
1
-
1

3
1
3
2
-
-
2
9

-
-
-
1
1
2
-
3

-
-
-
1
-
-
1
5

-
-
-
1
-
-
1
-

-
-
-
3
3
-
2
-

1977

Champions All
USSR Cup

-
-

4
-

-
-

-
1

-
-

-
-

1978

Chunichi Cup
Spartakiade of RSFSR Sports Schools
USSR Championships

-
-
-

1
2
3

-
-
-

-
-
3

-
-
-

-
-
-

1979

Coca Cola International
Moscow News
Simo Sappinen Memorial
USSR Championships
Universiade

-
-
-
1
1

4
3
2
8
3

3
2
-
-
2

4
2
-
-


4
-
-
-


1
-
-
-
3

1980

22. Olympic Games
Moscow News
USSR Championships
USSR Cup

1
-
-
-

1
2
3
1

4
2
1
-

-
-
6
-

2
2
-
-

-
1
-
-

1981

21. World Championships
USSR Championships

1
-

3
1

4
1

3
3

7
-

2
1

Gymnastics > Biography > Davidova