| | | |
| --- | --- | --- |
| Olga Valentinovna KORBUT | | Soviet Union (URS) |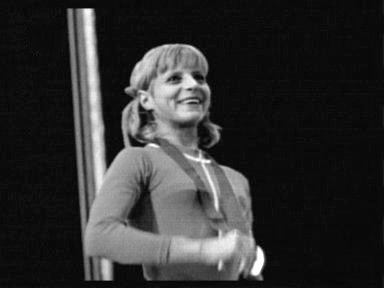 Date of birth

16 May 1955

Hometown

Scottsdale, Arizona, USA

Place of birth

Grodno (Belarus)

Profession

Height

152

cm

Children

1 son: Richard

Weight

39

kg

Start gymnastics

1966

Gender

Female

Club

Nickname

Head coach

Renald KNYSH

Spouse name

Leonid BARTKEVICH (1978-?)

Favourite apparatus
| | | | | | |
| --- | --- | --- | --- | --- | --- |
| World class in | 1972 | First competition | 1967 | Last competition | 1976 |
Olga was born on May 16, 1955 in Grodno. She has 3 older sisters (Irina, Zemfira, and Ludmila). Olga was chosen to do gymnastics because of her small size. Her first coach was 1964 Olympic champion Elena Volcheskaya. Later, she was coached by Renald Knysh. At age 14, Olga received permission to compete in the USSR Championships. She placed 5th AA and and next year was the USSR's alternate at the 1970 World Championships. Olga became an overnight star by winning 3 gold medals at the 1972 Olympics. Although she was never able to win a major AA title, she was (and still is) nonetheless one of the world's favorite gymnasts. After retiring from gymnastics, she married folk singer Leonid Bortkevich in 1978 (they divorced several years ago) and had a son, Richard. The family moved to the USA in the early 1990s. Olga remarried and currently lives in Arizona.
Links: CSKA Hall of Fame, Olga's Website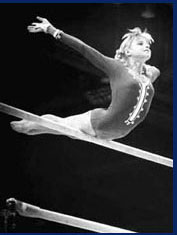 Although she never won an Olympic or World Championship all-around title, Olga Korbut revolutionized and popularized the sport to a degree not matched before or since.
Born May 16, 1955, in Grodno, Belarus, Korbut began training at age eight. When she was 11, Renald Knysh became her personal coach.
Together, Knysh and Korbut devised a program of explosive skills which defied the sport's traditional emphasis on balletic gracefulness. When Korbut reached the national level in the Soviet Union, some of her tricks were considered too dangerous; on the international level, bans were considered to stop them.
By the end of the 1972 Olympics in Munich, Korbut's daring and charm would combine to make her the most sensational gymnast to date in the sport's history. In Munich, Korbut was leading the all-around with two events to go. Disaster struck on her next and favorite event, the uneven bars. While performing her first skill (a simple kip on the low bar), she stubbed her feet on the mat. She then struggled throughout the rest of her routine for a score of 7.50. Her visible tears and public display of emotional disappointment at her failure earned her instant worldwide adoration.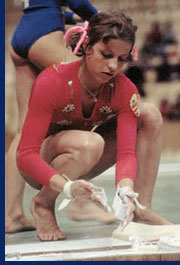 Korbut ended the all-around in seventh place, but came back to charm the crowd in the individual event finals, where she won gold medals on balance beam and floor exercise. She also tied for the silver medal on uneven bars.
Following the 1972 Games, Korbut toured the world as an international heroine. In 1973, she was named Female Athlete of the Year by the Associated Press; Sportswoman of the Year by the British Broadcasting Corporation; and Athlete of the Year by the American Broadcasting Company. During a period of Cold War suspicion and antipathy, Korbut became an unofficial goodwill liaison between the Soviet Union and the United States, and indeed the world.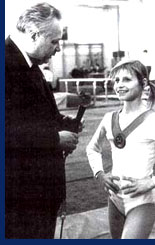 Competitively in 1973, Korbut finished second all-around (to 1972 Olympic champion Lyudmila Turischeva) at the European Championships in London; and first all-around at the World University Games in Moscow.
At the 1974 World Championships in Varna, Korbut again finished second all-around to Turischeva. She won the gold medal on vault (the only individual World Championship title of her career), and silver medals on uneven bars, balance beam and floor exercise. At the 1975 World Cup in London, Korbut placed second all-around behind Turischeva yet again.
Korbut's final international competition was to be the 1976 Olympics in Montreal. There, she finished fifth all-around after some uncharacteristic errors. In the event finals, Korbut won a silver medal on balance beam.
Korbut retired from competition in 1977. She married Russian pop singer Leonid Bortkevich, and became a mother to son Richard in 1979.
In 1988, Korbut became the first inductee in the International Gymnastics Hall of Fame.
She and her family emigrated to the United States in 1991. Today, Korbut and her second husband, Alex Voinich, live in Atlanta, Georgia.
Korbut, who works as a gymnastics coach, remains controversial. In 1999, she publicly accused Knysh of abuse while she was training with him. (Kynsh denied the charges.) Korbut also remains respected; she has been active in charitable work, most notably on behalf of victims of the 1986 Chernobyl nuclear plant contamination.
Even though her medal tally and skill level alone are timelessly impressive, Korbut is perhaps most revered for her originality and charisma that caused a worldwide surge in the sport's popularity.
Book: Wayne Coffey. Olga Korbut: Olympic Gold!. East Hanover, NJ, USA: The Bradford Book Company, 1996.
Medal Total
Olympics: 4 Gold, 2 Silver
World Championships: 2 Gold, 3 Silver
European Championships: 1 Silver

Year

Competition

Team

AA

1967

Jr. USSR Championships

-

-

1

1

-

-

1969

USSR Championships

-

5

-

-

-

-

1970

Chunichi Cup
Tokyo Cup
USSR Championships

-
-
-

2
-
-

-
2
1

-
3
-

-
2
-

-
1
-

1971

Chunichi Cup
JPN-USSR Dual Meet

-
1

3
1

-
-

-
-

-
-

-
-

1972

20. Olympic Games
Riga International
USSR Championships
USSR Cup

1
-
-
-

7
1
3
1

5
1
-
-

2
1
-
-

1
1
-
-

1
1
-
-

1973

-
1

2
1

-
3

-
1

-
1

-
1

1974

18. World Champiomships
USSR Championships

1
-

2
-

1
1

2
-

2
-

2
-

1975

USSR Spartakiade
World Cup

1
-

1
2

-
-

-
-

-
-

-
-

1976

21. Olympic Games
Cup of the White Russian Republic
USSR Cup

1
-
-

5
1
3

-
-
2

5
-
1

2
-
-

-
-
-

Pictures
Video:
Olympic Games 1976, Montreal - Beam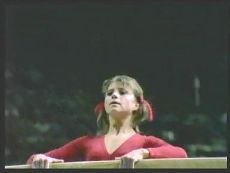 Original elements: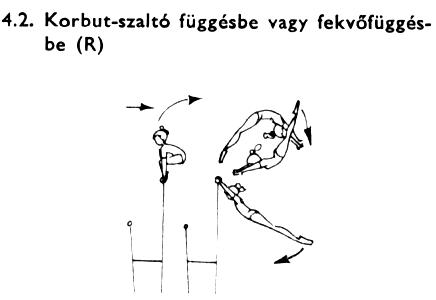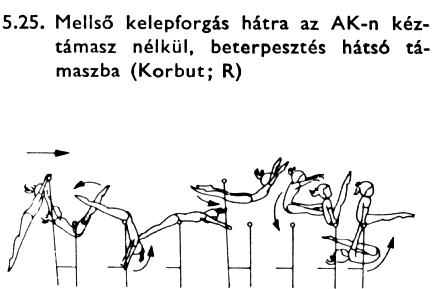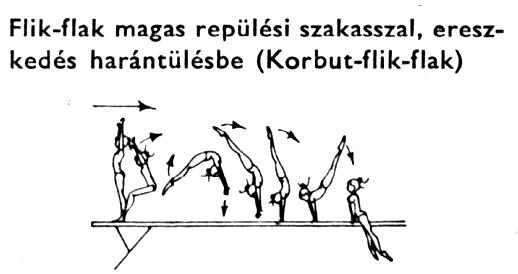 Gymnastics > Biography > Korbut