| | | |
| --- | --- | --- |
| Catalina PONOR | | Romania (ROM) |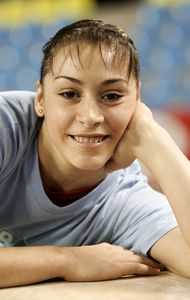 Date of birth

20 August 1987

Hometown

Constanta

Place of birth

Constanta

Profession

Student

Height

158

cm

Club

CS Farul Constanta

Weight

51

kg

Start gymnastics

1991

Gender

Female

Former Coaches

Matei Stanei, Gabriela Dosoftei

Nickname

Head coach

Octavian Belu, Lucian Sandu

Spouse name

Coereographer

Mariana Bitang
| | | | | | |
| --- | --- | --- | --- | --- | --- |
| World class in | 2003 | First competition | 2002 | Last competition | |
On her 16th birthday—August 20, 2003—Romania's Catalina Ponor received an unusual birthday present: her first medal in World Championships competition. That day, she helped her team take the silver medal in the team finals of the 2003 Worlds, held in Anaheim. By the end of the competition, Ponor had won two individual silver medals, and became the only Romanian gymnast (male or female) to earn more than one medal.
"I feel pretty good, but it could have been better," Ponor told IG of her success in Anaheim. "My goal for the Olympics is gold!"
Ponor has since reinforced her clout for next summer's Athens Games. Last month, she placed first all-around at the Arthur Gander Memorial in Switzerland; and first on balance beam and third on floor exercise at the DTB Cup in Germany.
Ponor hails from Constanta, hometown of 2000 Olympic all-around champion Simona Amanar. She now trains at the Romanian national team training center in Deva. Ponor says her favorite events are balance beam and floor exercise, and her best friend is teammate Silvia Stroescu.
December 2003 issue of International Gymnast magazine.
General Interest
Catalina was THE star of the Olympic Games in Athens. She was the only gymnast there to win three Olympic titles - on Floor, Beam and Team. Hardly known until the end of 2003, she stormed onto the international stage to win the 2004 European titles on Floor and Beam in Amsterdam and then repeated her success in Athens. She is planning to improve her A. Bars routine, so that she can challenge for the world title. Steady, stylish and a very feminine gymnast - Catalina has all that the audience could wish for in Women's Artistic Gymnastics. 2004 Glasgow Grand Prix and World Cup - Gold on Floor and Beam. Ghent World Cup- Gold on Floor and Beam.

On winning both Women's Event Finals (Beam and Floor) held 23 August:
"I'm very happy for my medals. Today it was a dream that came true. I would like to thank my coaches for the courage they gave me during the competition, and for the preparation."

On the competition:
"The atmosphere was wonderful, simply unique. Adding these two titles to the team's gold is an amazing feeling. I was not afraid that I was going to lose the gold medal on Floor. I supported and cheered for my team-mate Daniela Sofronie (who earned the floor silver in Athens)."

On comparing her gold medals:
"When I won the gold medal on Balance Beam, I was very emotional. I had wished to win that medal forever. I became even more emotional when I won the gold medal on Floor Exercise, because it became a second gold medal, and a gold medal is very hard to get."

On the progress she has made in international competition:
"I think I'm only at the beginning of my career, and I hope to continue as well as I have begun."

On the Athens Olympic Games:
"Athens is a unique place for me and I hope to live the Athens experience once more in the future."
* mixed-pairs competition (with Switzerland's Andreas Schweizer)

Gymnastics > Biography > Ponor > Pictures