Oksana OMELIANCHIK

(Оксана Александровна Омельянчик)

Soviet Union (URS)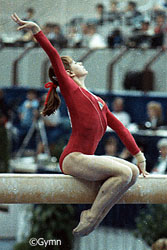 Date of birth

2 January 1970

Hometown

Belgium

Place of birth

Kiev

Profession

Coach and judge

Height

144

cm (1986)

Children

Anastasia & Ivan

Weight

31

kg (1986)

Start gymnastics

Gender

Female

Club

Spartak Kiev

Nickname

Head coach

Tatiana PERSKAJA

Spouse name

Favourite apparatus
| | | | | | |
| --- | --- | --- | --- | --- | --- |
| World class in | 1985 | First competition | 1983 | Last competition | 1989 |
Omelianchik was best known for her expressive floor exercise routines, featuring wonderful dance and intricate tumbling. In 1988, she was passed over for a spot on the Olympic team, becoming the alternate. Oksana is married, has 2 children (daughter Anastasia and son Ivan), and lives in Kiev. She's a coach and judge.
Born on New Year's Eve, Oksana was the first of three children of her ukrainian family. At the age of five she started taking figure skating lessons but soon switched to gymnastics. By 1983 she was selected for the Soviet junior squad.
In 1985 she became USSR champion and caused a sensation at the European Championships on floor. She showed a unique double tumble run and delighted the public with her chirpy choregraphy and big smiles.
In 1985 at the Montreal World Championships she became the new gymnastics star, winning the floor with a perfect 10.
Her career ended on a disappointing note. She tried out for the Soviet Olympic team for Seoul, but could only make the team as reserve. The former world champion was relegated to moving mats for her competing team mates.
She retires the following years and her life has had its ups and downs in her private life since then. She lives as a coach in Belgium. Sadly, Oksana's younger brother has suffered serious illness due to the Chernobyl accident in 1986 and she has been trying to raise money for his treatment.

Medal Total
World Championships: 3 Gold, 1 Silver
World Cup: 1 Gold, 2 Silver, 2 Bronze
European Championships: 1 Gold, 1 Silver, 2 Bronze

Year

Competition

Team

AA

1983

Jr. Friendship (Druzhba)
Ukrainian Spartakiade
USSR Championships

1
-
-

4
2
5

-
-
-

1
-
-

-
-
6

1
-
-

1984

Jr. USSR Championships
Moscow News
USSR Championships

-
-
-

-
5
4

-
-
-

2
3
-

-
-
-

-
-
1

1985

15. European Championships
23. World Championships
Moscow News
Rome Grand Prix

-
1
-
-

3
1
2
1

5
-
-
-

3
-
-
-

1
-
1
-

2
1
1
-

1986

Goodwill Games
Kraft International
USSR Cup
World Cup, Beijimg
World Sports Fair

1
-
-
-
-

3
12
-
3
1

-
-
-
2
-

-
-
2
2
1

-
1
-
1
1

2
-
-
3
1

1987

24. World Championships
USSR Championships
USSR Cup

2
-
-

5
6
3

-
-
-

-
-
-

-
-
-

-
-
3

1988

Kraft International
USA-USSR Dual Meet
USSR Championships
USSR Cup

-
1
-
-

3
3
4
8

-
-
-
-

-
-
-
-

2
-
-
-

1
-
-
-

1989

USSR Cup

-

22

-

-

-

2
Vendégségben a bajnoknőnél (1986)
Gymnastics > Biography > Omelianchik