Anna PAVLOVA

(Анна Анатольевна Павлова)




Russia (RUS)




from 2014 Azerbaijan (AZE)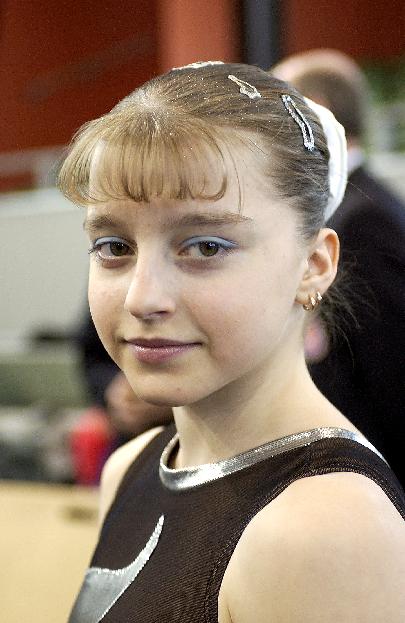 Date of birth

6 September 1987

Hometown

Orekhova-Zuevo

Place of birth

Orekhova-Zuevo

Profession

Student (State University of Physical Cultural)

Height

142

cm

Children

Weight

48

kg

Start gymnastics

1992

Gender

Female

Club

Dinamo

Nickname

Head coach

her mother Nadezhda Pavlova

Spouse name

Favourite apparatus
| | | | | | |
| --- | --- | --- | --- | --- | --- |
| World class in | 2003 | First competition | 1997 | Last competition | |
2000 Junior European champion on uneven bars, Russia's Anna Pavlova is petite in stature but large in talent.
The shy 13-year-old Pavlova, who is coached by her mother, won gold medals on the bars and with her team at last year's Junior European championships in Paris. In the all-around, she qualified third but slipped to fifth. Also in 2000, she won the Top Gym tournament in Belgium, and placed second to Australia's two-time Olympian Lisa Skinner at the Gymnastics Challenge in Canada.
Pavlova is scheduled to compete in the upcoming WOGA Classic in Texas, Jan. 20. She placed third in the event's junior division last year. Look for coverage of the 2001 meet in IG magazine and IG Online.
June/July 2000 issue of International Gymnast Magazine.
General Interest
Coached by her mother Nadejda Pavlova. The 2002 European Junior Champion in the All-Around, Vault and Team celebrated her first Olympics in Athens with two Bronze medals (Vault and Team) and she was only 0.025 from Nan Zhang for the Bronze All-around medal finishing in 4th place. A great "technician" with a difficult programme. Anna is a focussed and dedicated gymnast. Watch for her in the future! 2004 Glasgow Grand Prix and World Cup- Silver on Vault; Ghent World Cup Qualifier- Silver on Beam and Bronze on Vault. 2004 DTB Cup in Stuttgart, 29 Nov. - Gold on Vault

Anna Pavlova finally got the expected reward for all her youth efforts with an Olympic bronze medal at Vault. She also helped the Russians to a team bronze.

The 2002 Junior European Champion Anna Pavlova is one of the most promising young Russian gymnasts. She is expected to continue the glorious traditions of her country in this sport. She goes to the 2004 Olympic capable of winning medals on all four events. She is a great technician, focussed and dedicated gymnast and has a difficult programme on all apparatus.

She competed at two European Junior Championships (2000 and 2002) winning 6 medals - 5 gold and 1 silver. Won a silver medal on beam at the 2001 Goodwill Games.

Began competing as a senior in the spring of 2003 with excellent results, finished second to Khorkina in the all-around at the 2003 Russian National Championships, and first on vault and beam at the French International in Paris and floor exercise at the Cottbus Cup in Germany. She earned some valuable experience at the Worlds 2003 in Anaheim, before getting silver medal at Vault at the Euro 2004.

Started gymnastics at age 5. Coached by her mother Nadejda PAVLOVA. Most inspired by Svetlana KHORKINA, Yelena ZAMOLODCHIKOVA and Yekaterina LOBAZNYUK.

Would like to pursue a career as a coach. Born in a district of Moscow, Russia. Father is Anatoly. Has one brother Mikhail (born 1989). Full name is Anna Anatolyevna PAVLOVA. Favourite subject is mathematics. Enjoys cooking. Has a reputation for being very shy, but has a sharp sense of humour according to her team-mates.
Year

Competition

Team

AA

1997

Russian Jr Champions

-

9

-

2

-

-

1998

All-Russia Jr Champs

-

4

-

-

-

1

1999

All-Russia Jr Champs

-

3

-

-

-

-

2000

23. Jr. European Champs.
Gymnastics Challenge, Canada
Top Gym Tournament for Jr, Belgium

1
-
-

5
2
1

-
-
-

1
-
-

-
-
-

-
-
1

2001

Goodwill Games, Brisbane
Euro Youth Olympics, Murcia, ESP


2


2

2
1

2002

24. Jr. European Champs
Russian Champs
Stella Zakharova Cup, Kiev
Intl Sports Youth Games in Moscow
Russian Cup
Massilia Cup
Voronin Cup, Moscow

1
-
2
-
-
-
-

1
2
2
1
3
3
1

1

1
1
2
1
2

6
1
5

2

2

2

2
1
4
10
1

5


3
3

2

2003

37. World Championships
Grand Prix, Glasgow (World Cup)
Cottbus (World Cup)
Paris (World Cup)
Stuttgart (World Cup)
Russian Cup, Moscow
GBR vs RUS, Liverpool
DBT Cup, Stuttgart

6
-
-
-
-
-
1
-

10
-
-
-
-
1
1
-

5
4
2
1
-
7
2
-

-
-
14
13
-
2
3
-

-
1
1
1
4
4
3
4

7
-
1
-
-
4
-
-

2003

1

2004

25. European Championships
28. Olympic Games
World Cup Final, Birmingham
Ghent (World Cup)
Glasgow (World Cup)
Stuttgart (World Cup)
Nationals, Moscow
Olympic Test, Athen
Russian Cup
GBR vs RUS, Liverpool
Chunichi Cup, Nagoya

3
3
-
-
-
-
-
1
-
1
-

-
4
-
-
-
-
1
4
3
3
7

2
3
3
3
2
1
-
1
2
-
1

-
46
-
-
-
-
-
-
-
-
8

-
4
8
2
4
5
1
3
3
-
3

-
20
-
-
8
8
-
3
-
-
1

2005

1. Individual European Champs M & W
World Cup, Cottbus
38. World Championships
Russian Cup, Moscow

-
-
-
-

2
-
7
-

2
2
5
1

-
-
-
3

3
2
6
3

-
4
-
3

2006

39. World Championships
World Cup Final, Sao Paulo
World Stars, Moscow
World Cup, Shanghai
ITA vs RUS
DBT Cup, Stuttgart
Glasgow (World Cup)

3
-
-
-
2
-
-

19
-
-
-
8
-
-

5
4
-
2
-
1
1

-
-
-
-
-
-
-

4
4
2
3
-
5
3

-
-
6
7
-
3
6

2007

Russian Cup, Chelyabinsk
World Cup, Shanghai

-
-

5
-

-
2

-
-

-
3

-
-

2008

27. European Championships
29. Olympic Games, Beijing
World Cup, Doha
World Cup, Moscow
DBT Cup, Stuttgart

2
4
-
-
-

51
7
-
-
-

5
8
2
2
3

-
-
5
-
-

-
4
6
3
5

5
8
3
-
-

2009

All Russia Dinamo Prize Competition
Khorkina Cup

-
-

17
-

-
-

1
1

3
2

-
-

2010

Central Regional Championship
Russian Championship
Championnats de France
Russian Cup
All Russia Dinamo Prize Competition
Khorkina Cup
Voronin Memorial

-
1
2
-
1
-
-

5
10
-
5
1
1
5

2
5
-
-
3
1
3

2
-
-
-
-
1
-

-
-
-
6
1
1
1

-
-
-
-
2
4
-

2011

Central Federal District Championship
Russian Championship
Bundesligawettkampf
Alexander Dityatin Cup
Gym Festival
Russian Cup
All-Russian Tourn. for Prizes Yevgeny Podgorny

4
-
3
-
-
-
-

1
2
1
1
2
8
-

1
2
-
1
1
1
2

1
6
-
2
-
-
1

1
6
-
1
2
-
1

1
6
-
1
2
-
2

2012

Russian Championship
Central Federal District Championship
Trvana GYM Festival
Russian Cup

2
-
-
5

5
1
1
5

1
1
2
1

-
3
4
-

-
2
2
-

-
2
2
-

2014

-

-

2

-

-

-
Gymnastics > Biography > Pavlova > Pictures