| | | |
| --- | --- | --- |
| Elizabeth Kimberly TWEDDLE | | Great Britain (GBR) |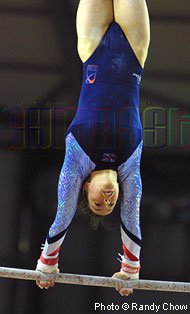 Date of birth

1 April 1985

Hometown

Bunbury

Place of birth

Johannesburg, South Africa

Profession

Height

cm

Children

Weight

kg

Start gymnastics

Gender

Female

Club

Liverpool Gymnastics Club

Nickname

Beth

Head coach

Amanda Harrison Kirby

Spouse name

Former Coaches

Charlie Oaks,
Fergus Beedham (until 1997)
| | | | | | |
| --- | --- | --- | --- | --- | --- |
| World class in | 2002 | First competition | | Last competition | |
Winner of the gold medal on uneven bars at the 2002 Cottbus Cup in Germany, Great Britain's Beth Tweddle continues her string of impressive performances on her favorite event. She is the reigning British champion on uneven bars as well as in the all-around, and placed sixth on uneven bars at the 2000 Junior European Championships.
"It was my first Grand Prix win, so I was very happy," Tweddle told IG. "I was nervous for the first routine in the final, but when I made it into the winner's final, I was very excited. I just went out and enjoyed it."
Tweddle, who also competed at the 2001 Cottbus Cup, said the meet's unusual awards ceremony gave her special incentive to win in 2002. "They have two forklift trucks and (the two winner's finalists) each stand on one," Tweddle explained. "Nobody knows the scores, so they raise both trucks and then one stops, and the winner rises higher. I remember last year, watching people ride the forklift trucks and thinking, 'I want to do that!'"
Tweddle, who was born in South Africa, trains at the City of Liverpool club. She is coached by Amanda Harrison Kirby, who finished 22nd all-around at the 1984 Los Angeles Olympics. Outside of gymnastics, Tweddle enjoys shopping, swimming and running. She used to compete in track-and-field (sprints and long jump).
April 2002 issue of International Gymnast Magazine.

* Injured in all-around 2. round (trained uneven bars)
2001 Cottbus
All-around - Beam

World Cup Final, 2004 Glasgow
All-around: Beam
All-around: Uneven Bars
Uneven Bars
Apparatus Finals - Uneven Bars
Uneven Bars
13. World Cup Final 2006, Sao Paulo, Brazil
Apparatus Finals - Floor
Uneven Bars
Team - Uneven Bars
Apparatus Finals - Uneven Bars
Apparatus Finals - Floor
Qual. - Uneven Bars
Qual. - Floor
Apparatus Final - Uneven Bars
Apparatus Finals - Uneven Bars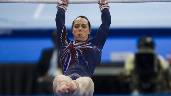 Apparatus Finals - Floor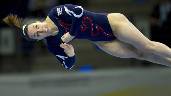 All-around - Uneven Bars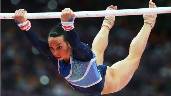 Artistic Gymn. > Biography > Tweddle